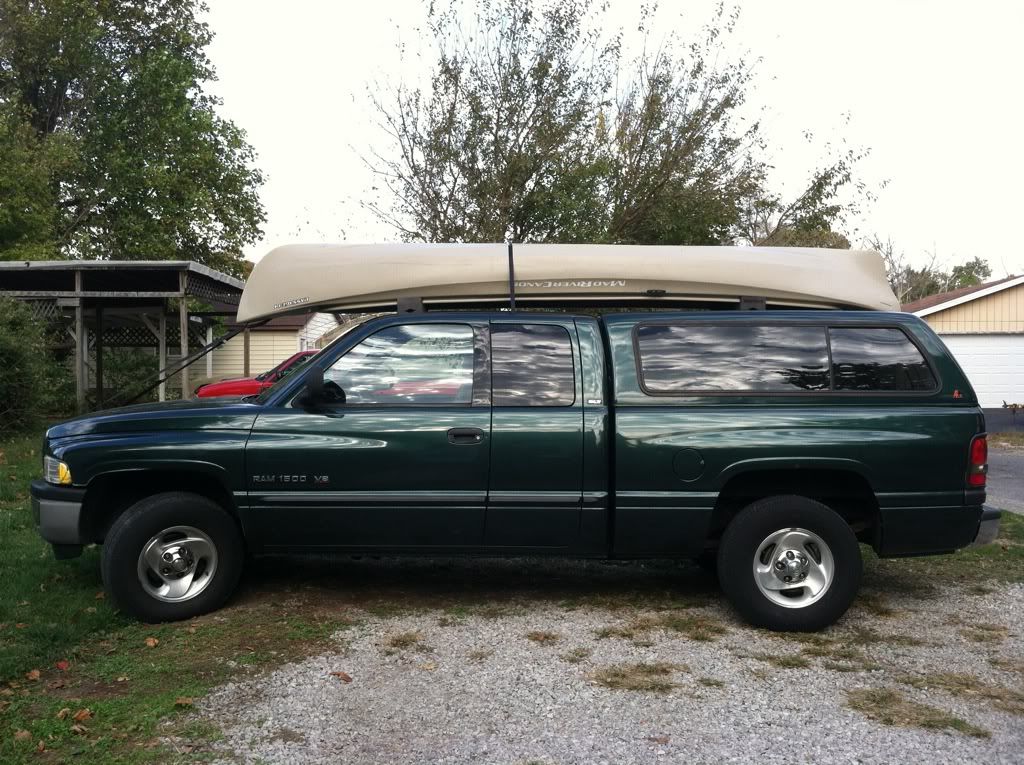 I recently got a used Dodge Ram 1500 in hopes of having a boat some day. The truck has a camper shell and I was worried about how I was going to get my mad river 14ft canoe loaded onto the top of the truck. To add to the difficulties, I am kinda short.
I think I paid around $40 or $50 for the set. I wanted to try this out because I have the full roof rack on our other car and that sucker was expensive. I was blown away at how easy the thing was to tie down and the foam blocks and straps worked like a champ.
I was able to load the canoe onto the truck by myself, tie it down and drive off within 20 minutes.
How I load my Mad River 14ft Canoe onto my truck with a camper shell:
1. Put foam blocks on the canoe.
2. Pick up the canoe and carry it to the back of the truck.
3. Put the front end of the canoe on the camper shell and the back end of the canoe on the ground.
4. Lift from the back of the canoe and slide the canoe onto the camper shell. (If you have a metal canoe, you will want to use some padding between the canoe and the truck at this point)
5. Tie down the front and back of the canoe. You can find places to hook the straps under the truck. (Keep the metal parts of the straps off the finish of the truck)
6. Put a strap around the middle of the canoe and through the truck cab.
7. Drive off and find some place to fish.
Taking the canoe off is about the same. Untie the straps and slide it off the back of the truck. Always be careful when lifting a canoe by yourself. I am a smaller guy and I feel confident loading my 14ft mad river canoe by myself. It weighs about 75lbs.