I have never been the classic / traditional fly fisherman. I don't really wade, I don't fish in streams and I don't fish for trout. I live in an urban setting so you have to take what you can get. If I wear a fly fishing vest to the city pond people will fall over laughing and staring. The cops would arrest me for getting into most ponds and the bottoms are silty fisherman quicksand anyways. Therefore, I don't carry the traditional fly fishing gear or clothing. I pack light and efficient. Only the essentials for me. Here is what always goes with me: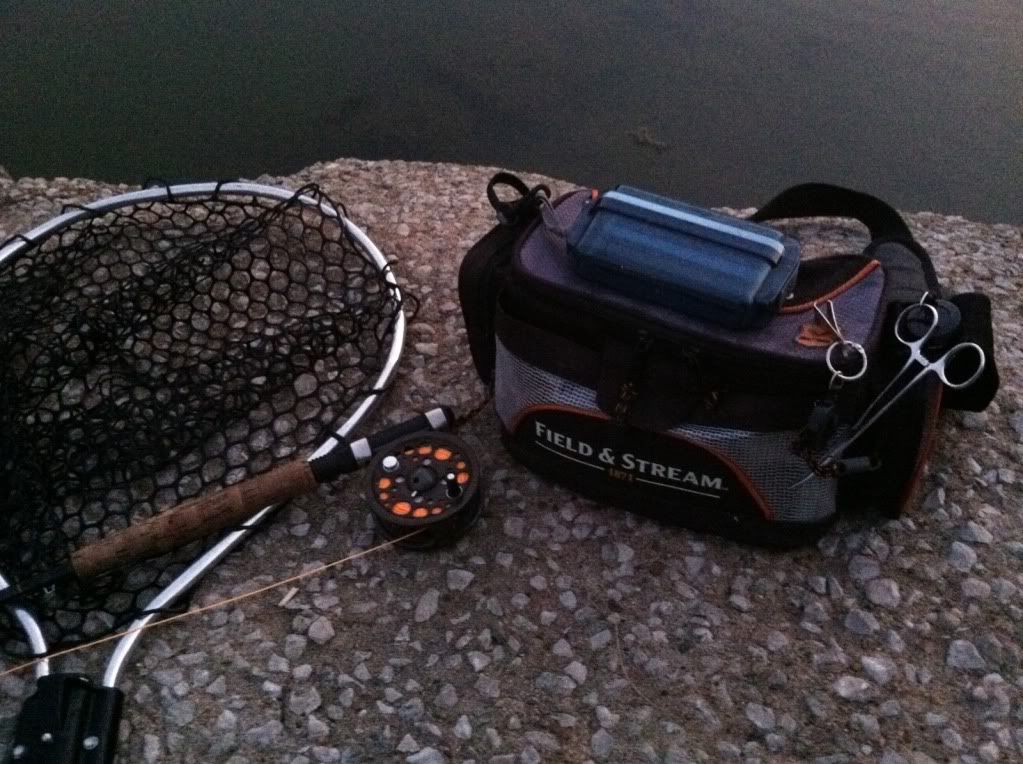 My Pack - I scored this for $10 and it fits everything I need. I prefer the trays over a standard fly box. Not sure why but I do. My fly reel goes in one pocket and random supplies(pliers, line nipper, nail knot tool, etc.) in the other. I also have my leader / tippet material and scale in the pack. The pack has 3 trays for my flies and I bring an assortment for warmwater fish. Our friends just got me a cell phone dry box that is clipped on my pack. Love it.


Fly Rod - I carry a Martin 5/6 wt, slow action, rod that I picked up at Dick's Sporting Goods as a starter package. It has floating line on it and I have been using this rod for 2 seasons now and I have caught all my fish on it.
Sunglasses - I wear prescription glasses already so this sucks but I have fit overs and clip ons and what not. I look like a grandpa. Polarized lenses.

Net - This is new for me because I usually don't catch larger fish. The carp fly fishing is changing that for me. I wear my pack over my shoulder and this gets tucked behind me. The handle slides in to make it half the length and it slides out when I need it.
Water Bottle - It gets super hot in the summer and this is a must.
Hat, Long Sleeves and Pants - I get a sunburn thinking about the sun and I hate sunscreen. Therefore, I either burn or wear full sun protection. I always show up to work with bright red hands. People laugh at me a bit.
When it is all said and done, I have one pack I sling over my shoulder, a fly rod ready to go and a net on my back and a water bottle clipped to my belt loop.
What do you pack? What are your essentials when you go fishing?